Find and review job applicants remarkably
faster

with AI

Give your recruitment team superpowers with AI-powered applicant search, scoring, and summaries. Review top applicants first, and move faster through the stack.
Ranking Algorithms
Review the
top applicants

first

Applicants are ranked in order of best fit for the job. You can also customize the formula.
Summarization
Review
scored summaries

instead of resumes

Applicants are AI-scored and summarized based on the job requirements. Score applicants on anything from years of experience to entrepreneurial traits.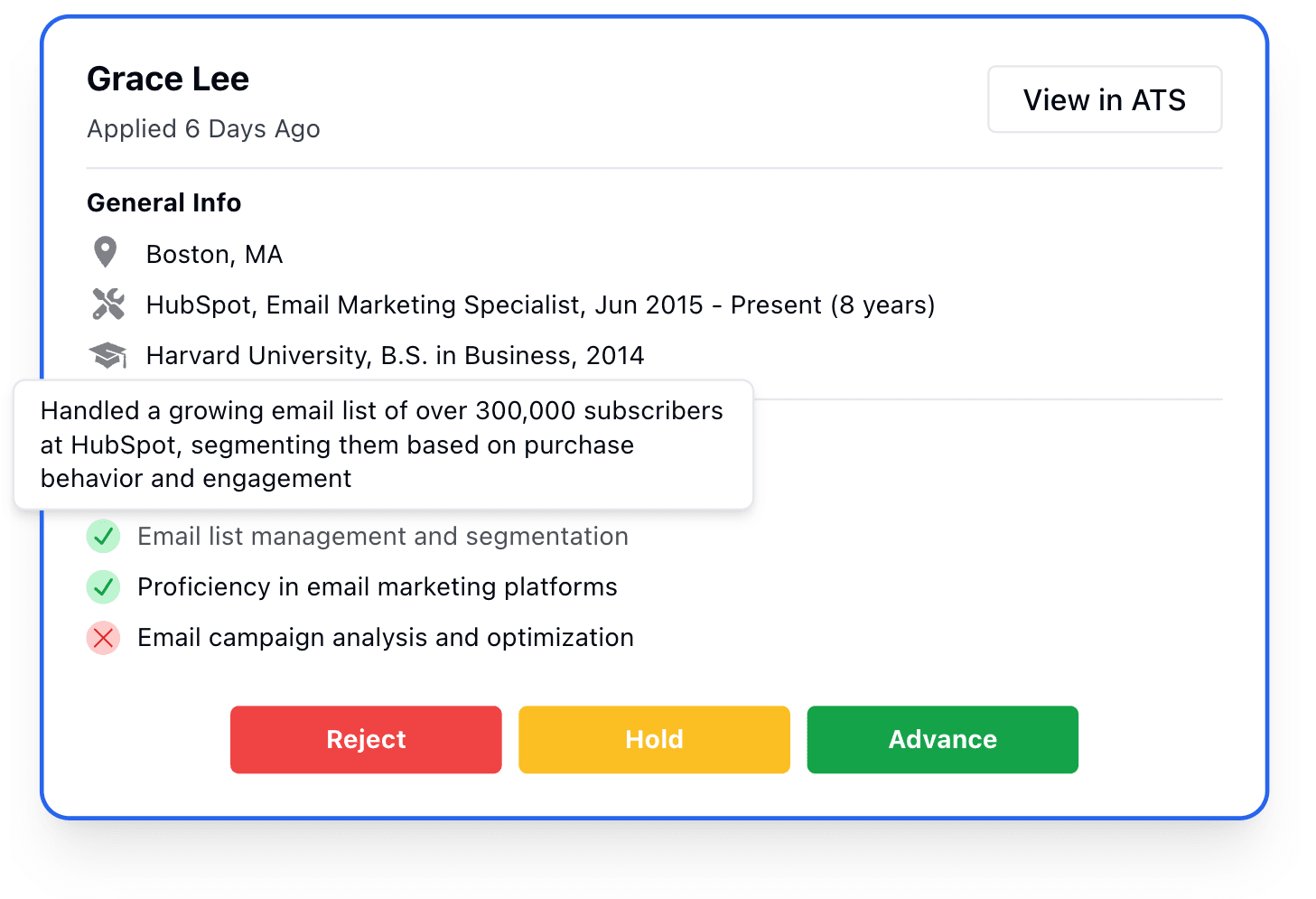 Is the AI accurate?
Mouse-over to get an explanation in a tooltip. Our AI has read the whole internet, so it recognizes related skills and technologies across any industry. Your team will learn from it while they work.
Team
100% technical, with deep
recruiting

experience

Headquartered in San Francisco, we're engineering alums of LinkedIn, Apple, and Y Combinator.

We've led teams building search features across 900 million professional profiles, matchmaking features for recruitment marketplaces, and we have collectively hired over 70 direct reports.
Pricing
Get hiring
superpowers

today

Endorsed is designed for internal recruitment teams, recruitment marketplaces, ATS software providers, and recruitment agencies.
Free
See how much faster you'll move
Up to 100 applications per month
Up to 30 days free access (extensions upon request)
Private Slack + email support
Get Started
Pro
Give your team superpowers
Up to 1000 applications per month per user seat
Private Slack + email support
Volume discounts > 5 users
Get Started
Platform
Give your application superpowers
API endpoints for search, rank, scoring, and summaries
Use on outbound or inbound resumes & LinkedIn profiles
Dedicated engineering resources
Contact Us
or Contact Us

© 2023 Showspace, Inc. All rights reserved.